We arrived in Chile on September 22 2016, just over a year ago and a month ago.  It is nice to  look back at the year we've had and how we've adapted not only to a new country but to a different way of life.  We've learned a new language, we've become legal residents in Chile & have the necessities like bank accounts, we rented a house and then found our permanent dream home, we made great new friends and we became parents for the first time.   It was a lot to adjust to at once, that's probably why we always felt busy even though we didn't have "real" jobs although we were setting ourselves up for a successful future here.
I feel we have made the transition from newcomers our little town (Matanzas) to a more or less a "local" family here. And huge part of this is because we finally have a beautiful home to call our own (Titus our old campervan would be very offended by statement).
When we got to Chile, we spent many months searching for land and trying to navigate the crazy real-estate market in our area.  Where we live has become one of the hottest new vacation areas in Chile due to the popularity of kitesurfing, some amazing beach front restaurants and the (until now) relatively untouched beauty of the beaches and nature here.   The problems we ran into weren't just that the prices were too high for us, it was also that a lot of land was being sold without proper title or legal papers or that you couldn't build on the land because it was in a risk zone for fires/floods/landslides, or had no feasibility for water and so on and so on.  It was all a bit overwhelming to sort through.
But we were lucky that our good friends Martin and Joy were already building a home to sell, and back in January we made the smart decision to agree to buy it before it was finished.   We realized if we didn't jump on this house, it could be years before we'd have our own home here, if we could last that long.
Two months ago in August we got to move in, and it has really changed our lives.  We knew Martin was building a great house with a lot of care, but we had no idea we would love living in it so much. Thanks Martin!
It is so nice to have a family and a home. Renata is 6 months old and is such a cutie; she's always smiling, laughing, and dancing when the music is on.  She is totally healthy but she has to wear a patch each morning to strengthen her left eye.  It is fun watching Jenine and her together. Rena loves to be in her carrier watching mom do whatever she is doing especially cooking and daily walks around our property. Rena is fascinated by Brisa dog and also loves to put everything in her mouth, including her favorite; sand. She just started eating real food, and that has been a whole new messy world for us.
Our lives are pretty special/fun right now. We get to spend a lot of quality time with our daughter. Jenine has a great group of friends, most of whom are young mothers. She recently did a 3 day yoga workshop and it looks like she'll be able to start going to yoga more, meaning Rena and I sometimes get to fend for ourselves. I am surfing regularly with a British surfer named Dean who's been in Chile for a while and recently relocated his workshop right next to my house (http://dcdsurfboards.cl/). He's a great guy and he's even shaped a board for me.  I need the boards as I have broken 4 this year…
October is the start of Spring and also the start of kitesurfing season, and I have a fun group of friends who come to town on the weekends to kitesurf. We've been spending a lot of Saturdays at Lobera Club house which is a bar/restaurant owned by kitesurfers. I can actually see Lobera from the terrace of our new house. I've already had some great sessions in big surf (10 feet) and already had to repair my gear twice after crashes…..
This winter (June to Aug in Chile) we took our first family trip to spend a week skiing in the Andes at Nevados de Chillán (http://www.nevadosdechillan.com/).   Brisa dog was crazy about the snow and although Rena was sick for a few days, she got to be in the mountains for the first time. I'm not a big skier, but we love to get up to the mountains for a few days each year. It's pretty special that you can live by the ocean and still drive to the mountains.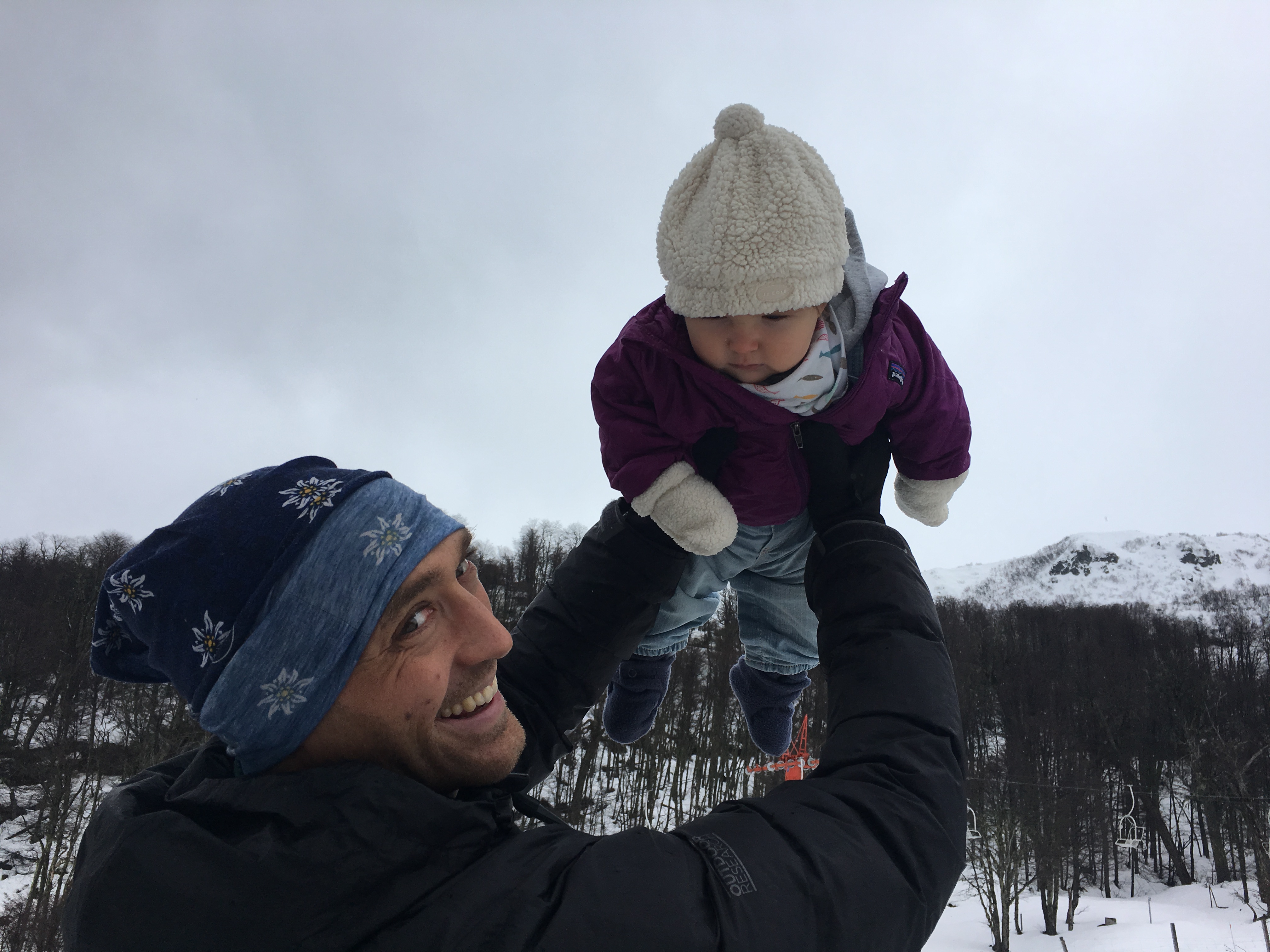 While Jenine is busy with Rena during the days, I have been spending most of my time working at the house. Building furniture, helping Martin finish up the house, landscaping and many more little things. I have a pretty long to-do list and we are hoping to start building a guest house/ cabaña in late November once the house is completed. Additionally, we bought land together with Martin and Joy, which we hope to develop and sell in lots.  The land is right across the street from our home.  There are several things we need to do to get the land ready like running water, putting up fencing,  landscaping and legal work. We already drilled a well for water, which was a pretty fun experience. I'm super happy to have work in my life that is interesting and challenging and it is a great opportunity to partner with Martin who I learn a lot from.
Drilling for water:
I'm sure as we integrate ourselves deeper in the community, get more and more comfortable with the language and understand the area better more opportunities will come up.
We definitely could never have done this move to Chile without enough savings to carry us through and my plan is that in 2018 (and possibly this year if we sell some land) we earn enough money to support ourselves entirely here. I'm really thankful we get to do this. It is a pretty special experience and one that is healthy and rewarding for us.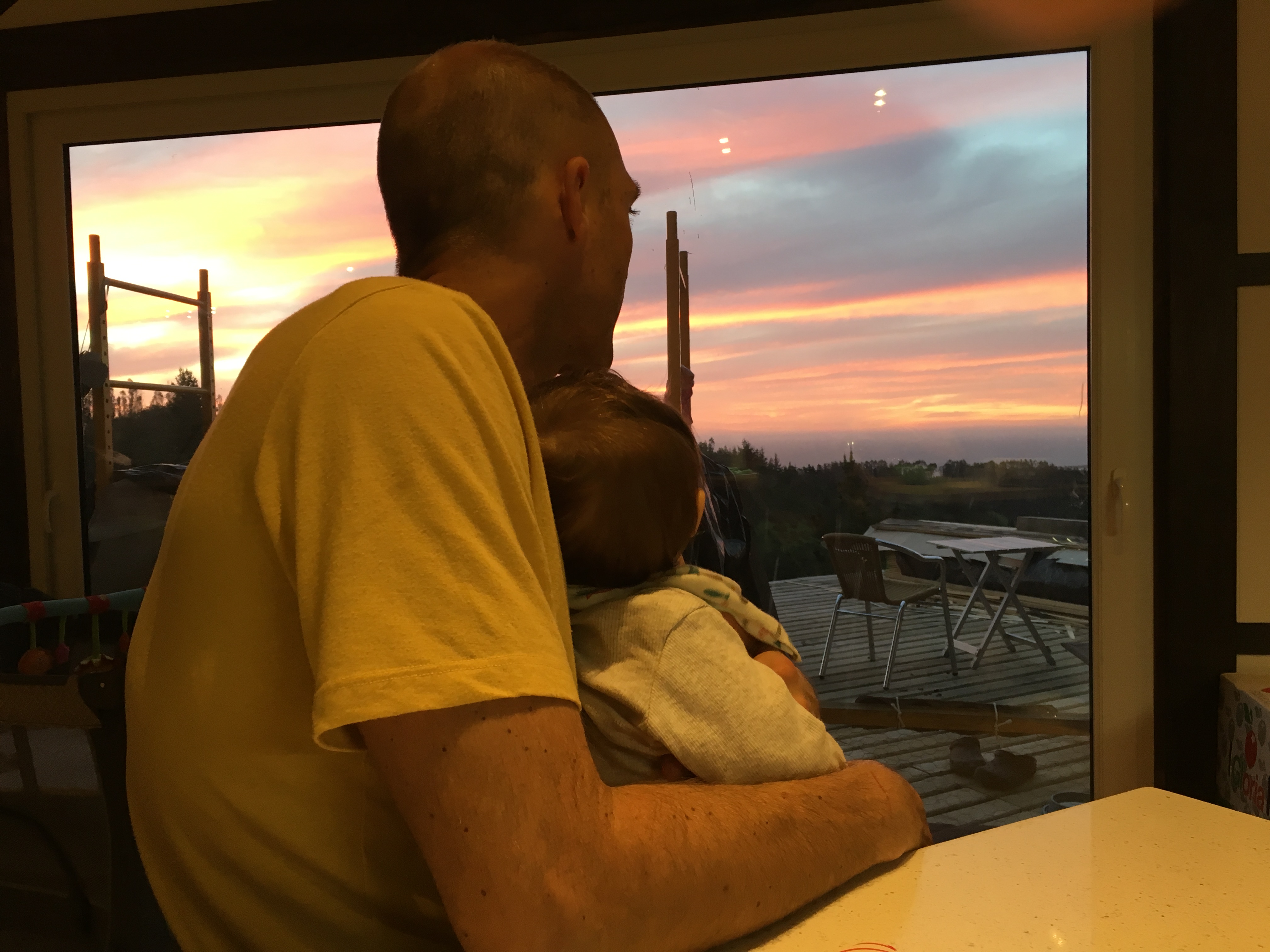 Also, it is  summer now in Chile!  This means we will be welcoming family and friends to come visit us and our new home! Jenine's mom comes in November, my parents in December, our friend Tim and his girlfriend in January and Jenine's mom and dad again in February. We'd love to welcome more friends to Chile!
For many more photos (and videos) … click here to see the full album!