When George and I set out we originally had an aggressive plan of making it to Vancouver Island, then all the way to Alaska before returning south in time for Burning Man (~1 month).  We quickly realized with our first detour to San Juan Island that Alaska just wasn't going to be in the plan (Alaska we will meet in the future!).
We had never heard of the San Juan Islands in Washington before a friend recently traveled there for a wedding. When we heard you could take a ferry through the islands to Vancouver Island, BC (instead of the traditional route through Vancouver), we thought, why not? And with that we drove to Anacortes and hopped the evening ferry to Friday Harbor, San Juan Island.
We Googled campsites and found Lakedale Resort close to the town of Friday Harbor. The lakes there were just beautiful and our campsite was great, so we went for an evening paddle before dinner and met one of the friendly locals who gave us a great recommendation for a seafood restaurant (our last dinner out of the trip so far!). One thing we've really come to quickly rely on is the recommendations of strangers, especially now that we are without cell service (gulp!). Smile, say hello, and be ready to listen 🙂
The next day we wanted to see the rest of the island (and maybe an Orca Whale…AKA Killer Whale…yes they roam wild up here!), but found it pretty difficult to get to the beach in most places on San Juan. But we did manage to find a state park where we spent a good hour+ looking for Orca's. We haven't seen one yet, but we'll let you know if we do!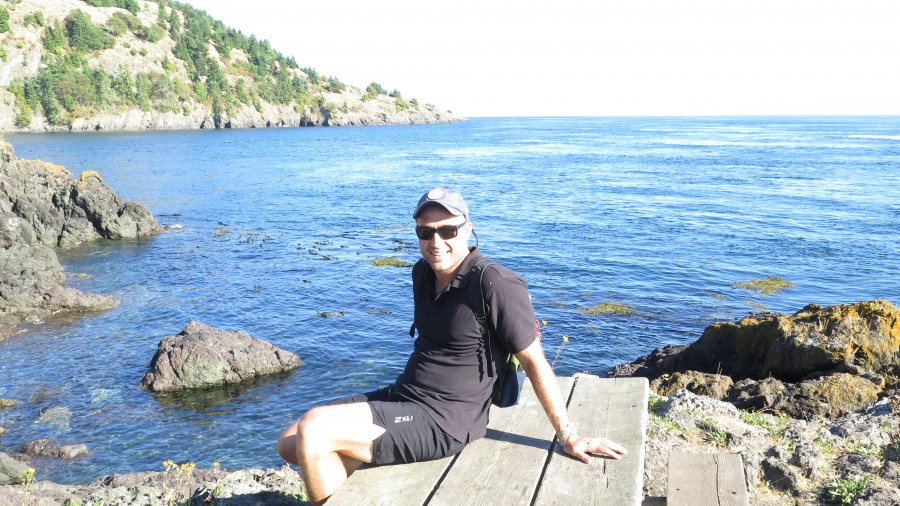 In the end we only traveled San Juan Island, the main island, which is pretty touristy in the summer. Even though San Juan lives off of tourism, I wouldn't call the place very welcoming. But it is beautiful, and we heard very good things about Orcas Island and Lopez Island which are a quick ferry ride away. We left Friday Harbor on the only ferry of the day to Sydney, Vancouver Island, BC (no reservation, and with a quick passport check on the Canadian side – was that really customs we just went through??).
We didn't really have a plan when we arrived in Vancouver Island, but alas a friendly local in Victoria told us about the Salmon run going on in Campbell River. Fly fishing…for Salmon!? Yes please, we brought our fly gear in hopes of this!!  We hurried up north and made it to a fly shop in time to purchase some nice Pink Flys for bait and a cooler for the salmon we hoped to catch. The nice gentleman working told of us a nice fly fishing spot, and boy did he ever come through!
We had the most amazing time Salmon fishing, and couldn't believe we were actually able to catch one (make that two – and I'll clarify it was George who did the catching ;P) We did decide to keep and eat one. Wow, the process you go through to clean and prepare a fish that big!
We certainly did get our fill of salmon fishing, being the last ones on the river at night…well unless you count this guy who joined us…
After scurrying back to camp, we decided to head the next day to Strathcona park for a night (again, a recommendation from a local). Strathcona has some amazing hikes and views. And the campground we stayed at, Ralph River Campground, was nestled in an old growth forest that looked like something out of Lord of the Rings. My personal favorites of Strathcona were Lower Myra Falls (freezing cold, but great after a 6 hour strenuous hike), as well as what I've termed the Butterfly Forest (on the Flower Ridge Trail). Literally hundreds of little white/purple/black butterflies fluttering about in the forest!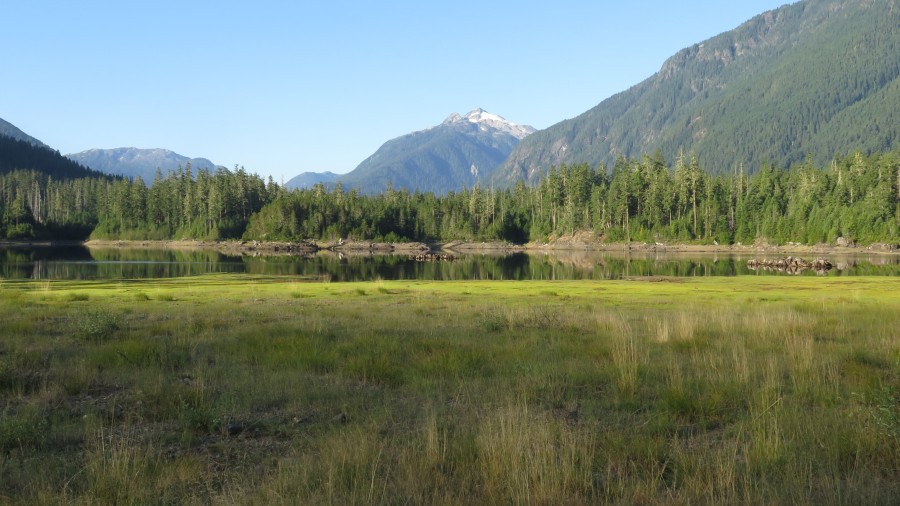 Camping in Strathcona Park (Ralph River Campground)
What we are listening to this week…
All in all we are settling into van-life very well and enjoying our time on the road. See more pictures here…